Thin Film Intumescent (TFI) coatings are the latest technology when it comes to Passive Fire Protection methods. Intumescent is a paint-like coating with a 0.25 to 5.0 mm dry film thickness (DFT) which is formulated to swell when exposed to the heat and temperatures associated with the outbreak of fire. In the event of a fire, the coating begins to degrade and, once temperatures exceed 200 °C, an intumescent film forms.
There are various types of intumescent coatings which can meet different fire resistance ratings and be specified for internal or external exposure.
Intumescent coatings are generally composed of two main ingredients which are bound with a resin:
Carbonific – a material such as melamine is added to the paint, which will turn into charcoal during the process of intumescence.
Spumific – a mixture of a specialised pigment and other additives incorporated into the paint. During the process of intumescence, these pigments give off gases and water, causing the coating to swell up to 50 times its original thickness.
An intumescent coating includes three components, a primer for adhesion and resistance, a base coat, and a topcoat or sealer which is available in custom colours. The coating is usually applied as a spray and the thickness to which it is applied depends on the fire rating required and the thickness of the steel.
There are many reasons why architects and building designers should consider intumescent coatings as their preferred passive fire protection method, but here are our top four:
1. Offsite Application
Both onsite and offsite application of TFI coatings is possible. Intumescent paint is best applied when the paint site is clean, dry and free from dust, oil, rust and other contaminants that could affect the adhesion. Onsite application happens once steelwork is erected but comes with many disadvantages including potential downtime due to weather conditions, disruption to other trades, higher project costs due to site access requirements and equipment required for application and potential contaminants due to site dust.
Offsite application has many advantages including:
Avoiding delays due to weather as the environment is effectively controlled.

Fewer site disruptions as no time has to be blocked out to mask, fireproof and unmask the site, reducing project costs.

Better quality control

No health risks to other trades (who may have otherwise been onsite).
Once steel has been transported to site and erected a specialist team is still required to apply the coating to the connection plates and bolts and apply any necessary topcoat finishes.
2. External Use
Many passive fire protection materials, including vermiculite and fire retardant board, are not suitable for external use. However, intumescent paints can be adapted to meet the needs of architects with products available to coat steel, timber and concrete used externally.
These adaptations include the coatings being resistant to changes in cooler temperatures, humidity, holding structural integrity when rained on and varieties of topcoats for when the area is completely exposed to the elements.
3. Can be applied to many surfaces
With steel being the most widely used construction material, it makes sense that intumescent can be applied to it. But with the focus of building structures turning more towards sustainability, mass timber constructions such as the Atlassian HQ aka 'The world's tallest hybrid timber tower', will become more common.
There are already intumescent products available for use on timber and cement. With timber, the product is altered slightly as the focus is less about the heat and more about stopping the spread of smoke and flames.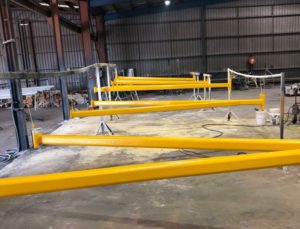 4. Choice of colours and finishes
Intumescent coatings are known as the aesthetically pleasing fireproofing product because of its high-quality finish, similar to wall paint, and the ability to mix the topcoat with pigments to provide the desired colour finish.
The finish of intumescent paint is much like that of a rolled finish on plasterboard. A smoother finish can be achieved but must be specified in the initial quotes as additional labour is required to sand the surface and apply multiple topcoats.
Design Considerations
Intumescent paint is applied thinly, up to 1mm, and we've already talked about how intumescent paint expands and swells up to 50mm when exposed to heat. But what most architects and buildings designers don't realise is that a clearance of 50mm does need to be left around the structural member to allow for this expansion.
This can mean that for certain types of installation, such as where window frames or walls will touch the structure, an intumescent coating will not be suitable. Where space is an issue, other products such as Fire Retardant Board can be used.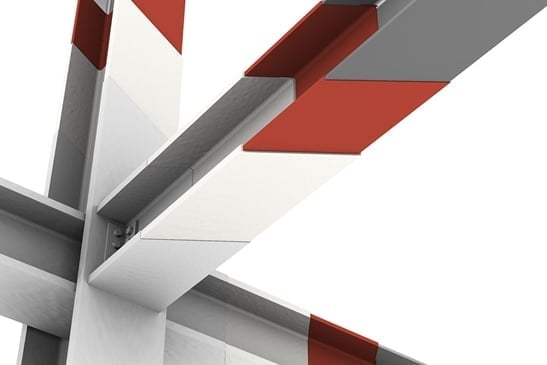 Considering intumescent?
Intumescent has many advantages over other types of fire protection products, and knowing how to correctly specify intumescent paint in a project's design can reduce project costs and help to avoid construction delays onsite.
ProFinish Coatings are one of the few certified full-service applicators of intumescent paint in Australia. If you are considering using intumescent coating in your project it will help to discuss the project's specifications with the expert team at Pro Finish Coatings. The team has intimate knowledge of fire protection products and can provide you with competitive quotes, helpful information and back it all up with exceptional service.
Take a look at some of our recent projects on our Facebook and LinkedIn pages.